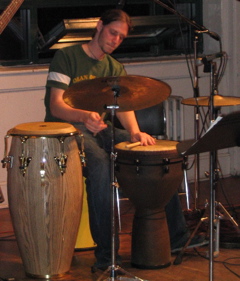 Dave Millman, was born and raised in northern New Jersey and began playing music at the age of ten. Originally interested in percussion, at the age of 14, Dave became immediately fascinated by jazz drumming after hearing a recording of Art Blakey. At 17, he began studying with jazz legend Joe Morello (Dave Brubek).
While in high school Dave diversified his musical interests by playing and recording with the New Jersey punk band Wholesale, as well as various funk and jam bands. He gained musical experience playing in pit orchestras, including two WYACT (Westfield Youth Actors Cooperative Theater) productions, where he worked with conductors Eileen Greenbaum and Tom Langmaack, performing at the New Jersey Performing Arts Center.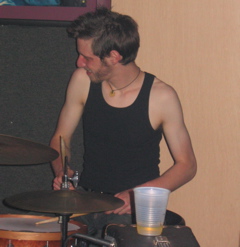 In 1999 Dave attended a summer jazz workshop at Manhattan School of Music where he met Kevin Reilly (the bass player of Defenestrate Time). They discovered they were attending Colgate University together in the upcoming Fall, where they would meet James Martin (Deftime's guitarist).
While at Colgate, Dave performed and studied with jazz great Rick Motalbano as well as composer Dan Trueman, performer Glenn Cashman (tenor saxophone) and conductor Marietta Cheng.
After college Dave spent four years living and performing in the New York metropolitan area with Defenestrate Time, Simcha Kanter as well as other musicians.
In 2008, Dave moved to North Carolina and shifted his focus from music to pursue other adventures. He still plays when the opportunity arises, for example, can you find him in the demo of Zimin Ren's very cool paper.