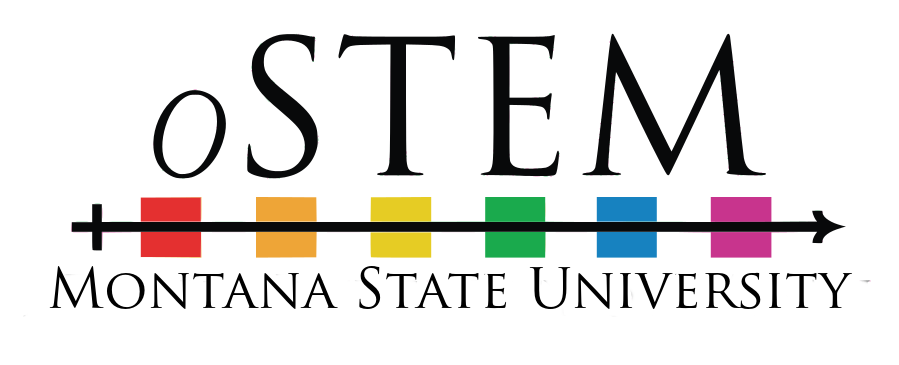 oSTEM at Montana State University Student Club
2019 oSTEM Conference
Out in Science, Technology, Engineering, and Mathematics (oSTEM) is a national organization dedicated to educating and fostering leadership for LGBTQA+ communities in the STEM fields.
MSU's local chapter is oSTEM at Montana State University. For more information, e-mail Monika at monikak.school@gmail.com
The 2019 national conference takes place in Detroit from Thursday, November 14th to Sunday, November 17th.
Photos
| | |
| --- | --- |
| | |
| Our Cohort! | Greektown Dinner |
Logistics
11/14 Flight from Bozeman: 8:22 a.m. - 3:53 p.m.
11/14 Dinner: Pegasus Taverna, 558 Monroe Street
11/14 Hotel: Holiday Inn & Express, 1020 Washington Blvd
11/15 and 11/16 Hotel: Detroit Marriott at Renaissance Center
11/17 Flight from Detroit: 6:00 p.m. - 8:50 p.m.
Final Planning Meeting - To Be Determined
11/14: Need to determine who can drive others to the airport.
Hotels: Need to determine hotel roommates
GroupMe App: Need to determine who will set this up
Next Steps for Participants
Register for the oSTEM conference, using the registration code that you were e-mailed on 9/27.
Attend the 10/2 oSTEM meeting at 5:00 p.m. in Barnard 347 to sign a university travel document.
Submit the Participant Travel Form located here no later than 11/4.
Application Procedure
If you would like to attend the oSTEM conference, e-mail the following information to John Paxton (john DOT paxton AT montana DOT edu) no later than Friday, September 13th. Last year, 16 students were sponsored!
Name
Major
What is your experience with the LGBT+ community?
A brief overview of what MSU could do better with respect to diversity, equity and inclusion.
Answer the relevant prompt:

2019 First-Time Conference Attendee: A brief overview of how attending the conference might be beneficial.

2019 Experienced Conference Attendee: (a) A brief overview of the personal and professional benefits you received by attending the conference and (b) a brief overview of additional personal and professional benefits that you would receive by attending again.
Optional: If you have a resume, attach it to your application in pdf format. The resume will help prepare you for the oSTEM Career Fair that takes place at the conference.
Optional: Is there anything else you wish to mention?
Questions?
Feel free to drop by John's office in Barnard Hall 353 or send an e-mail (john DOT paxton AT montana DOT edu).
Student Sponsorship
Our goal is to sponsor as many LGBTQ+ STEM students as possible to attend the conference. Sponsorship includes airfare, a shared hotel room and conference registration.
The following units sponsored students to attend the 2018 national conference:

The Norm Asbjornson College of Engineering

Chemical & Biological Engineering Department
Civil Engineering Department
Electrical and Computer Engineering Department
Gianforte School of Computing
Mechanical & Industrial Engineering Department

The College of Letters and Science

Chemistry and Biochemistry Department
Ecology Department
Mathematical Sciences Department

The College of Agriculture

Plant Sciences & Plant Pathology Department
Because this is a university sponsored trip, you have permission to miss classes on Thursday and Friday.
Previous Conference Photos